ACL Reconstruction System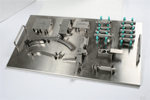 This instrumentation system has been developed to be used with various Anterior Cruciate Ligament Auto graft reconstruction techniques. This includes Patellar cum Patellar Tendotibial bone – BTB complexes and Semi tendinous Tendengrafts. The subject system can be used for both open and close procedures and those with all current methods of fixation like interference screws and endo-buttons.
The system comprises of interference screw & endobuttons, both made in titanium alloy confirming to ISO 5832-3: 1996.