Ring Fixation System
Circular fixation, popularly known as Ilizarov apparatus is the popular deformity correction apparatus. Fracture fixation, limb lengthening and correction of bony and soft tissue deformity are prime indications for which Ring fixation system is most commonly used.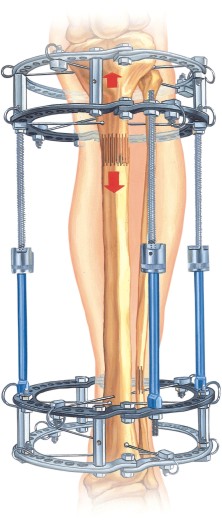 Ring Fixation Systems are primarily of two types – One for adult and other for pediatric applications. The system is mechano type and is extremely versatile. The required apparatus can be assembled from the available option hardware to particular application.
The main component mainly Rings are available in stainless steel as well as carbon composite material. The SS range are strong and rigid and are useful for prolonged applications or repeat use. The carbon composite rings are lightweight and radiolucent thereby preferred by Orthopedic Surgeons.